BRASS DESIGNER BOWLS MANUFACTURER IN DELHI
Posted by Admin on January, 27, 2021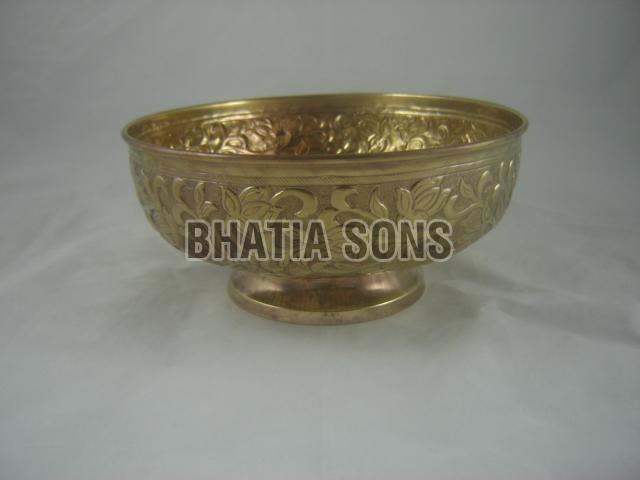 Utensils are an intricate part of our everyday lives. Although minimal the price but the needs are often indispensable and hence while buying these items there should be certain things that should be taken into account. Since utensils are very useful hence the choice of utensils should also be extraordinary.

Brass Utensils

When we go through the pages of History we often find that in the olden days, Kings used to eat in brass utensils. That definitely gives us an antique and nostalgic feeling. The immediate thought when we hold a brass bowl in our hands transports us back to those days. It is also said that Brass utensils are good for health. Howsoever today very few manufacturers manufacture Brass Utensils in India.

Health Benefits of Brass

Most people in town try to consume their food in Brass Utensils because of benefits such as:

• It increases strength and immunity
• Controls burning sensation and aggressions in the body.
• It improves the hemoglobin count and improves the condition of the skin.
• It is corrosion-resistant.

Why brass bowls?
The above-stated reasons are some of the usefulness of the metal Brass and it is better to eat in brass bowls because the salt and the acidic foods easily react with the brass.

Choosing the Correct Brass Product

While buying a brass bowl one should always keep a look at certain things:
• Brass has certain benefits but sometimes it may be brass coated which can be harmful as the brass coating will be removed after a few days.
• The symmetry should be considered.
• The product should be taken into account as much as possible.

The Bhatia Sons
We are one of the best product manufacturers of metal utensils such as brass utensils, stainless steel products, and many more. Established in the year 2017, we the Bhatia Sons have stood strong and came out as one of the most trusted Brass utensil Manufacture in Delhi as well as India. Our clients have established their faith upon us and entrusted their demands upon us with full faith. The brass bowls are a very special product for us as our craftsman spend a graduate amount of time designing them. All items are made by our team members.

Brass Bowl by Us
We, The Bhatia Sons are one of the most trusted manufacturer of the brass bowl in Delhi as well as India. The Brass bowl contains intricate designs by our craftsman that give you a tinge of nostalgia as well as an antique feeling. It is a quality product and has been checked and put to test by skilled engineers. Our Designer Brass Bowls are not only fancy looking but they are long-lasting, tensile, and are made of the purest products.

Before bringing it out into the market these products are tested and retested by our talented group of Design Engineers are finally brought into the market as a finished product.

We, the Bhatia Sons have worked and sustained in this industry for years now and have been able to create the faith that is required.
This entry was posted on January, 27, 2021 at 18 : 34 pm and is filed under BRASS DESIGNER BOWLS. You can follow any responses to this entry through the RSS 2.0 feed. You can leave a response from your own site.